1964
Sunday trip to Podmoscovje.
Colleagues from the Institute of Philosophy B. Shragin and A. Vetrov, correspondent of ╚Pravda╩ V. Korovikov, Italian journalist Levy next to his interpreter. On the right stays E. Ilyenkov, at that time being a senior researcher of the Institute of Philosophy.
1962,
at Korovikov house‑warming.
Writer I. Zabelin, V. Korovikov, E. Ilyenkov, journalist N. Dimchevsky
1957, banquet after defending
Ph.D. thesis by V.S. Tjukhtin.
Ilyenkov talks something to V.V. Davydov

1966. Ilyenkov near the Institute of Philosophy wall newspaper (he drew it together with A. Zinovjev).

Election campaign in the USSR Academy of Sciences.
On the right, Oyzerman, as the two-faced toreador, transfixes a donkey (B.S. Ukraintsev, lost the election of Corresponding Member of the Academy) with a sword. On the left reclines a calf (Y.A. Levada) turning his back. The pierced by swords balloon (M.T. Yovchuk, lost the Academician election) is carried down on a stretcher to dungeon. The skeleton of the late Academician A.M. Deborin is under the staircase. Academician B.M. Kedrov, in the likeness of multihanded Shiva, is in the centre.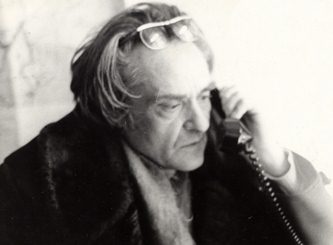 middle 70s